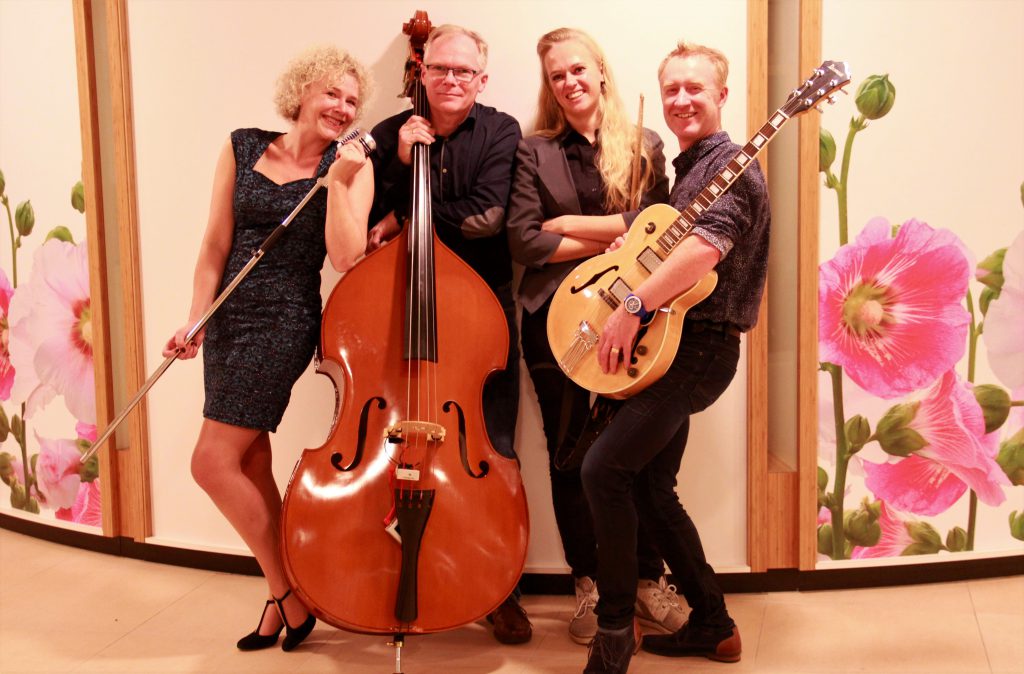 Off The Record speelt vrolijke popcovers in een akoestisch jasje. Wat Off The Record bijzonder maakt, is dat ze ingetogen kunnen spelen en toch pittig blijven. Daarom heel geschikt voor een receptie, tuinfeest of een andere gelegenheid waarbij je elkaar nog graag wilt kunnen verstaan. Dus zelfs in je huiskamer! Natuurlijk zijn er regelmatig nummers die je laten dansen en meezingen.
En moet het allemaal wat groter dan kan dat natuurlijk ook. Wil je weten hoe? en hoe wij jullie blij gaan maken? klik dan hier.
Off The Record heeft eigen geluidapparatuur of kan zo nodig licht inhuren en jou daarvan ontzorgen. In een gesprek kunnen we samen kijken welke wensen je hebt. Wil je meer weten, neem dan contact met ons op.
Setlist o.a.:
Liquid lunch – Caro Emerald
My silver lining – First Aid Kid
The Beat Goes On – Emilie-Claire Barlow
Copa Cobana – Barry Manilow
Sweet about me – Gabriella Cilmi
Just the two of us – Sabrina Stark
That Man – Caro Emerald
50 Shades of black – Kovacs
One day – Janne Schra
Neh Na Nah Neh – Vaya con Dios
More than madly – Gare du Nord
Black Horse – KT Tunderstall
Dish of the day – Gare du Nord
Shy boy – Katie Melua
Riviera live – Caro Emerald
Moondance – Van Morisson
A night like this – Caro Emerald
So incredible – Ilse DeLange
Streetlife – Randy Crawford
Perfect – Fairground Attraction
These Boots – Peggy Lee
Mr. Rock & Roll – Amy McDonald
Norwegian Woods – Beatles